It's The Parentalist's first Birthday – Yay!!!!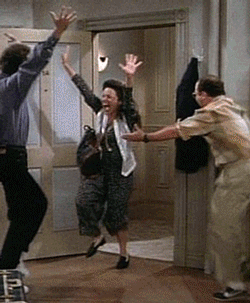 I thought it would be fun to ask the guests of the past 52 weeks what their favourite party game is.
Not only is it interesting to hear what they come up with, they also can give you and me some ideas on what we could try next birthday time.  They shared some real goodies (coming in a future post).
So today I'll let you know what the top party games as voted by my guests:
Pin the Tail on the Donkey

Pass the Parcel
Musical Statues/Musical Chairs
Interactive Board Games: Hungry Hippo; Mouse Trap; Pictionary
Closely followed by:
Theatre parties/charades

Donuts/Apples Bobbing
The Chocolate Game
Treasure/Scavenger Hunts
I can't wait to tell you the others!  But I guess that's the fun about parties, you never know what's coming next 🙂
Who Voted for the Top?
Pin the Tail on the Donkey: Rael Isacowitz; Rey Brown; Amy Fortney Parks; Ben Carvosso; Zita Cameron; Tysen Webb
Pass the Parcel: Christina Lattimer; Joshua Becker (Levelled up version); Claire O'Brien; Leanne Graham; Jane Sweeney
Freeze Dance/Musical Statues/Musical Chairs: Allison Slater-Tate; Louise Pagonis; Regina Drury; John Cowan
Interactive Board Games: Ken Denmead; Nicole Spagnuolo; Sean Malarkey
Theatre parties/Charades: Melissa Wiley; Derek Olsen
Donuts/Apples Bobbing: Natalie Cutler-Welsh; Yvonne Godfrey
The Chocolate Game: Andy Bray; Angela Edwards
Treasure Hunts/Scavenger Hunts: Annah Stretton; Jaime Tardy (Levelled up version)
By The Way
I have a handful of give-aways almost ready to schedule, except my daughter has a tummy bug, so I'm sorry I'll start those later this week.  As is life 🙂
Thanks for understanding 🙂
<3
Sarah